Wallace

Name

Wallace

Species

Elephant

Gender

Male

Occupation

Pizza Face restaurant employee

Relatives

First Appearance

Last Appearance

Friends

Enemies

Voiced by

Wallace is a massive, muscular reddish/pink elephant who works at the Pizza Face restaurant. He once almost got into a brawl with Heffer who owed him $500.95 for pizza but was stopped at the last moment by his boss. Seemingly aggressive, he has a deceptively high pitched and meek voice. Rocko again deals with him in the episode "S.W.A.K." when Rocko sends his crush Alicia a love letter before realizing Wallace lived with her and mistook him for her boyfriend when he was actually her brother, despite the fact that she is a kangaroo and he is an elephant. Wallace is dimwitted, childish and illiterate but has enough strength to pound pizza dough flat with one punch and flip it into outer space to cook it. After Heffer read Rocko's letter Wallace assumed that Rocko and Heffer were a gay couple, oblivious to the fact that Rocko actually wrote the letter for his sister, not Heffer. Wallace is voiced by Tom Kenny.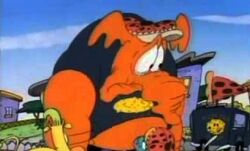 Ad blocker interference detected!
Wikia is a free-to-use site that makes money from advertising. We have a modified experience for viewers using ad blockers

Wikia is not accessible if you've made further modifications. Remove the custom ad blocker rule(s) and the page will load as expected.