Welcome
Hi, welcome to Rocko's Modern Life Wiki! Thanks for your edit to the Edward Bighead page. If you need help, read through our help pages or contact a local admin. If there are no active admins here, stop by Community Central and check out our forums.
Looking for live help? Then join us for an upcoming webinar to chat with staff and other Wikia editors. You can also check our Staff blog to keep up-to-date with the latest news and events around Wikia. Lastly, check out the Wikia Video Library, where you can find premium licensed videos to add to the wiki.
All of these links are a great way to start exploring Wikia.
Happy editing, DaNASCAT
(help forum | blog)
Thanks for leaving a message! I appreciate the thoughts.
Ren Hoek The Chihuahua
(
talk
) 03:39, April 3, 2013 (UTC)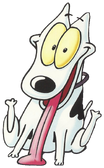 Dr. Hutchison Page
I apologize for the inconvinience, but would you be able to allow me to use the DrHutchison13.png picture on Dr. Hutch's page? I went through quite a bit of trouble to get it in high-quality and feel it seems more 'official' and suitable to the page rather than a cut-out that doesn't really resemble the style of the show.
Adoption/Deletion
Hi. I've deleted the pages from the deletion category. I answer the adoption requests in the order they are made, and right now it is taking about a week. -- Wendy (talk)
00:18, May 5, 2013 (UTC)