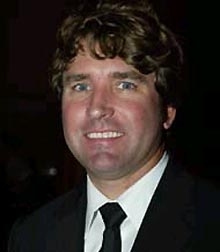 Stephen McDannell "Steve" Hillenburg[1] (born August 21, 1961) is an American animator, writer, producer, actor, voice actor, and director best known for creating the animated series SpongeBob SquarePants. He currently owns his own production company, United Plankton Pictures and has also written for Mother Goose and Grimm and Rocko's Modern Life.
He wrote directed for certain episodes of Rocko's Modern Life. In season 4, he got promoted to creative director/producer.
Credits
NOTE: All seasons 1-3 credits are director, storyboard (excluding season 1), and additional writing. All of his season 2/3 are with Mark O'Hare. In season 4, all of his credits are under creative director and story by.
Season 1:
Season 2:
Season 3:
Season 4:
External links