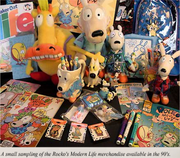 For the TV series, see Rocko's Modern Life (TV Series)
Rocko's Modern Life was a monthly comic book series published by Marvel Comics and based on the TV series of the same name. There were seven issues in all, which were released from June 1994 to December 1994. The art was done by Darren Auck and Gary Fields, with some panels drawn by Joe Murray himself.
Several characters were exclusive to the comic book series, including the following:
List of Rocko's Modern Life comic books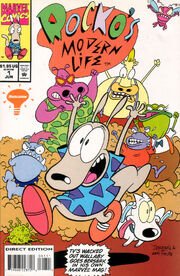 Issue #1

Release Date: June 1, 1994
Pages: 30
Segments: "Dental Hyjinks" & "This Is A Test!".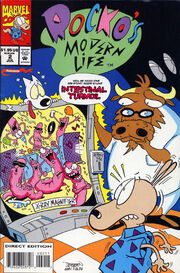 Issue #2

Release Date: July 1, 1994
Pages: 30
Segments: "Intestinal Turmoil" & "Who Invited You?"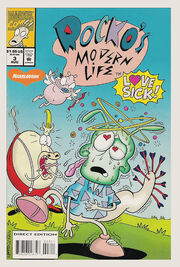 Issue #3

Release Date: August 1, 1994
Pages: 30
Segment: "Eat This! It's Good For You!"
   Issue #4

Release Date: September 1, 1994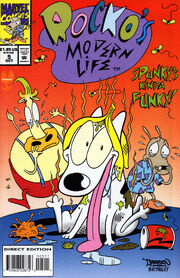 Issue #5

Release Date: October 1, 1994
Pages: 35
Segments: "Earl & Water Don't Mix", an unrelated short football comic titled "The Ultimate Trading Card", and "Spunky's Kinda Funky"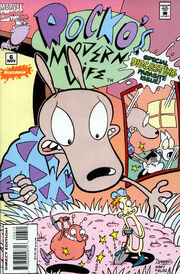 Issue #6

Release Date: November 1, 1994
Pages: 30
Segments: "Bug Out!" & "Lice on the Loose"
  Issue #7

Release Date: December 1, 1994