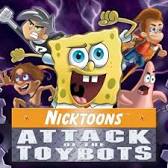 Nicktoons: Attack of the Toybots is the sequel to Nicktoons Unite! and Nicktoons: Battle for Volcano Island released on the Wii, PlayStation 2, Nintendo DS and Game Boy Advance.
Rocko is one of the four heroes who is trapped in Professor's lair on the PS2 and Wii versions. He also appears as a master model in the PS2 version, the Wii version, and the DS version.
Trivia
Rocko is not in the GBA version, but Spunky appears as a master model.
Ad blocker interference detected!
Wikia is a free-to-use site that makes money from advertising. We have a modified experience for viewers using ad blockers

Wikia is not accessible if you've made further modifications. Remove the custom ad blocker rule(s) and the page will load as expected.