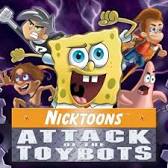 Nicktoons: Attack of the Toybots is the sequel to Nicktoons Unite! and Nicktoons: Battle for Volcano Island, the platforms are Wii, PS2, DS and GBA. But Rocko is the one of the 4 heroes who trapped
In Proffessor lair on ps2 and Wii.
Trivia
Rocko is in DS game as a Master model like in Wii and Ps2.
Rocko is litterally not in GBA but Spunky is in GBA as a Master models.
Ad blocker interference detected!
Wikia is a free-to-use site that makes money from advertising. We have a modified experience for viewers using ad blockers

Wikia is not accessible if you've made further modifications. Remove the custom ad blocker rule(s) and the page will load as expected.