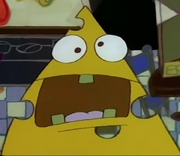 Mr. Cheese was a character in Wacky Delly. A show that Ralph Bighead created. Mr. Cheese is also the most popular character in The Wacky Delly Show (or so he claims). He only appeared in the half-hour episode, Wacky Delly. His original name was Lester Roquefort.
Quotes
I AM THE CHEESE! I AM THE BEST CHARACTER ON THE SHOW! I AM BETTER THAN BOTH THE SALAMI AND THE BOLOGNA COMBINED!
Apperances
Ad blocker interference detected!
Wikia is a free-to-use site that makes money from advertising. We have a modified experience for viewers using ad blockers

Wikia is not accessible if you've made further modifications. Remove the custom ad blocker rule(s) and the page will load as expected.