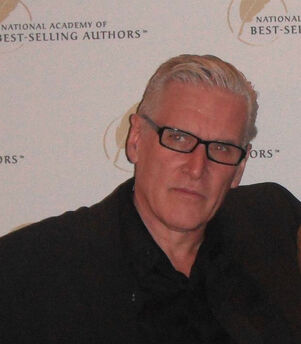 Martin Olson (born April 2, 1956) is a American comedy writer, television producer, stage director and composer. He is also a playwright and poet known as an original member of the notorious "Boston Comedy Scene." Olson's satire "Encyclopedia of Hell" was published by Feral House (July 2012) and his second book "The Adventure Time Encyclopaedia" was a best seller published by Abrams Books (August 2013.).
Olson has received four Emmy nominations and an Ace Award for television writing, and two Emmy nominations for songwriting. For Rocko's Modern Life, Olson was one of the original staff writers through all four seasons, writing many of the weirder RML episodes, including "Wacky Delly," "I Have No Son," "Belch of Destiny," "Sugar Rush," "Born To Spawn," "Tickled Pinky" and "To Heck and Back."
Martin Olson RML Filmography
Season 1 (Story By):
Who Gives a Buck?
Dirty Dog
Skid Marks
Power Trip
To Heck and Back
Popcorn Pandemonium
Rinse and Spit
Season 2 (Story By):
I Have No Son!
Tickled Pinky
Down the Hatch
Boob Tubed
Rocko's Modern Christmas (uncredited)
Cruisin'
Born to Spawn
Uniform Behavior
Day of the Flecko
Gutter Balls
Season 3 (Story By):
Belch of Destiny
Sugar-Frosted Frights
Tooth and Nail
Wacky Delly
The Big Question
The Big Answer
Season 4 (Story By):
The High-Five of Doom
Heff in a Handbasket
Hypno-Puppy Luv
From Here to Maternity