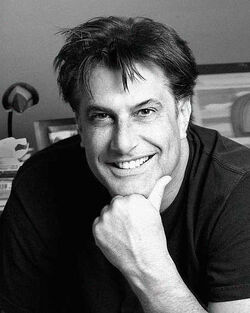 Joe Murray is the creator of Rocko's Modern Life, Camp Lazlo, Frog in a Suit and KaBoing Tv. He has two websites, www.kaboingtv.com and www.joemurraystudio.com.
Joe Murray also voiced Ralph Bighead in "I Have No Son" and "Wacky Delly", and a caricature version of himself in "Short Story". He didn't consider himself a voice actor, but Martin Olson convinced him that he was suited for the role since they're both cartoonists.
He also did a short voice role in Camp Lazlo as a voice of a baggage handler in "Miss Frfu Fru". His only line was "What, I'm on break."
Episodes Written
Season 1:
Season 2:
Season 3:
Gallery
Ad blocker interference detected!
Wikia is a free-to-use site that makes money from advertising. We have a modified experience for viewers using ad blockers

Wikia is not accessible if you've made further modifications. Remove the custom ad blocker rule(s) and the page will load as expected.