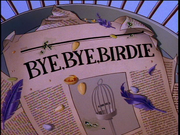 "Bye Bye, Birdie" is the first part of Season 3, Episode 1.
Plot
Rocko agrees to take care of Filbert's bird while he's at the hospital, but discovers that it's a lot more trouble than he anticipated.
Trivia/Goofs
The title is an obvious reference to the movie "Bye Bye, Birdy".
When the mustard stain first falls on Rocko's car, it's clearly yellow. But after the camera comes back to Rocko after showing Heffer eating his hotdog, the stain is brown.
Rocko and Heffer are watching The Fatheads on television.
The size of the bird increases somewhat throughout the episode.
The song on the record player Heffer puts the bird on is "Hang Ten" sung by Stiles Fitchly.
If you pause when the view is inside the spinning cage and Rocko is talking, you can see that Rocko's mouth doesn't move when he says "This is something". When he says "accept" and when Heffer is crying out in horror, his mouth is frozen in the open position.
Filbert rips off the hospital bracelet and spits on it. In the next scene, it's gone.
When Filbert is exclaiming over the monkeybirds, his eyes turn purple.
Ad blocker interference detected!
Wikia is a free-to-use site that makes money from advertising. We have a modified experience for viewers using ad blockers

Wikia is not accessible if you've made further modifications. Remove the custom ad blocker rule(s) and the page will load as expected.