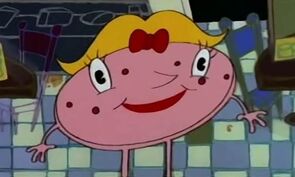 Betty Bologna is the only female character who appeared in the "Wacky Delly" cartoon. The oblivious character was drawn by and voiced by Rocko.
Trivia
She is the only character in Wacky Delly with at least one article of clothing.
Betty was only seen by the knees up in the pilot, but she was seen with high heels on the Hollowood stars.
Ad blocker interference detected!
Wikia is a free-to-use site that makes money from advertising. We have a modified experience for viewers using ad blockers

Wikia is not accessible if you've made further modifications. Remove the custom ad blocker rule(s) and the page will load as expected.